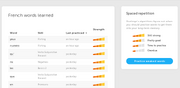 The Words tab displays a list of the words you have learned within your currently-selected course along with their strengths. This section is available in the blue ribbon at the top of the page of the web site, in the "... MORE" menu. If you don't see it then the current language doesn't have a Words tab.
Note that not all courses have a Words section available. It is also not available on the mobile apps.
Sorting
[
]
Information about your words learned is displayed in four sortable columns:
Word: The word itself. Users can hover the mouse cursor over the word to see some of its possible translations. A word may appear more than once (e.g. if it is a noun and an adverb).
Part of speech: The part of speech. 
Last practiced: When the word was last practiced. This depends on the part of speech that was used for practice (e.g. "set" as a verb versus "set" as a noun).
Strength: Word strength as calculated by Duolingo.
Clicking on a column header (e.g. "Word") will sort the words by the values in that column, and clicking it again will reverse the sort order. 
Word information
[
]
Clicking on a word in the list will display information about that word such as its translation, the skill it appears in, and audio of its pronunciation. Clicking "More details" will additionally display example sentences using the word as well as its conjugations if the word is a verb.[1]
External link
[
]
Duolingo Words: https://www.duolingo.com/words
References
[
]