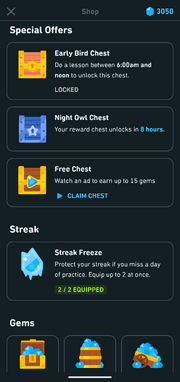 The shop (previously called lingot store) is where you can buy items to enhance your learning experience using lingots or gems. Users can purchase certain items that can add new skills to the language tree, or items that can help a user complete a lesson.[1] Users earn lingots or gems by leveling up and finishing a skill, and one lingot for every ten days on a streak.
Purchasable items
[
]
Below is a list of items that can be obtained in the Duolingo shop.
Legend:✔ = Available | X = Not available
* Only some languages have these skills available; in particular, incubated courses rarely do while staff courses usually have them.
The Robo-Duo outfit is also available, costing 2000 gems in the iOS version and 50 lingots in the X version.
See also
[
]
External link
[
]
References
[
]