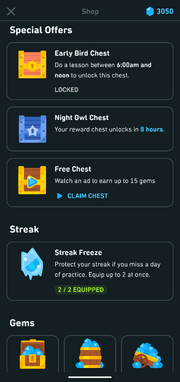 The 
shop
(previously called
lingot store
) is where you can buy items to enhance your learning experience using 
lingots or gems
. Users can purchase certain items that can add new skills to the 
language tree
, or items that can help a user complete a lesson.
[1]
Users earn lingots or gems by leveling up and finishing a skill, and one lingot for every ten days on a streak.
Purchasable items
Edit
Below is a list of items that can be obtained in the Duolingo shop.
Type
Item
Description
Reuseable
Web
Android
iOS
Power-ups
Streak Freeze
Skip a day without losing your streak.[2]
✔
✔
✔
✔
Weekend Amulet
Protects your streak over the weekends. (Unlock with Wizard Achievement Tier 2).
✔
X
✔
X
Double or Nothing
Bet double-or-nothing on continuing your streak for another seven days[3].
✔
✔
✔
✔
Skip level
Jump to a level higher than one (to skip from 0 to 1 is free)
✔
Free
✔
✔
Health refill
Regain full health
X
X
X
✔
Practice
Timed practice
Practice against the clock for more XP.
✔
✔
X
✔
Bonus skills
Idioms
Learn some idioms.
✔
✔
✔
✔
Flirting
Learn how to flirt.
✔
✔
✔
✔
Christmas
Learn some Christmas vocabulary

Available only during Christmastime

Outfits
Formal Attire
Formal attire for Duo.
X
✔
✔
✔
Champagne Tracksuit
A swanky tracksuit for Duo.
X
✔
✔
✔
Dragon suit
A dragon suit for Duo.
X
✔
✔
✔
Legend:✔ = Available | X = Not available
External link
Edit
References
Edit
Community content is available under
CC-BY-SA
unless otherwise noted.