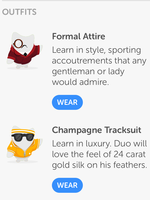 Outfits were virtual clothes for Duolingo's mascot, Duo, to wear. If you have one equipped, you will see Duo wearing it while you complete lessons and interact with the site. They are removed, and now if one is equiped, it will be that way forever.
Outfits were only available in the mobile apps. They were once available in the Shop (a lingot store equivalent for mobile) within the app. A purchased outfit used to be unequipped if desired, and it is possible to have multiple outfits in storage simultaneously (but only one can be used at a time). They have no effect on learning the language, merely being an aesthetic choice to improve your enjoyment of the site.
| Outfit | Name | Description | Price |
| --- | --- | --- | --- |
| | Formal Attire | Duo wears formal attire sporting a black suit, a red bow tie, a white dress shirt and a monocle. | 400 gems |
| | Luxury Tracksuit | Duo wears a gold tracksuit with a headband. | 600 gems |
| | Super Duo | Duo wears superhero mask and red cape. | 1000 gems |
| | Dragon suit | Dragon suit for Duo.[1] | No longer available for purchase (exclusive to Chinese New Year season). |
Robo-Duo was also available for purchase, costing 2000 gems and unlocking support once bought.