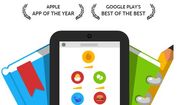 Duolingo is available as a mobile app for iOS, Android (including certain Android-compatible systems such as Fire OS and Chrome OS[1]), Windows Phone [2], Universal Apps (Windows 8 & 10 devices)[3], Google Glass [4], and Android Wear [5][6]. The Duolingo website also has a mobile-friendly design that can be accessed via a mobile web browser [7].
Mobile devices seem quite popular and in 2014, 85% of Duolingo's usage came from mobile devices [8].
Features
There are some differences in which features are available on the website and in each mobile app. Some of these features may be brought to the other platforms at a future date. See the table below for more details.
† Windows 10 apps can be used on both Phone (Windows Phone 7+) and Desktop (Windows 10)
  ※ For courses having at least one bonus skill.
  * Platforms having at least one in-lesson report option.
  ** From within lessons.
  ‡ instead of photos.
  †† At least for one course on the platform.
  ‡‡ Only available for the Japanese from English and the Korean from English courses.
Courses
In addition to differences in features, there may also be differences in which courses are available. All phase 2 and 3 courses are available on the website while the selection for each mobile app may be more limited.
Offline mode
The mobile apps include an offline mode functionality that lets the user complete about an hour's worth of lessons without being connected to the Internet.[13] Speaking exercises are not available in offline mode due to the need to send the audio to Duolingo's servers.[13]
See also
References