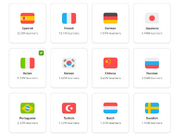 Duolingo's
language courses
are created and maintained in the 
Incubator
 by volunteers and language experts with the assistance of staff.
[1]
Some of these courses are also a result of a partnership between Duolingo and organizations such as the Peace Corps
[2]
.
A listing of all available and in-development courses can be found at the Incubator website. Course information can also be found on the courses page and in the course list, though these may not include all courses or be completely up-to-date. 
Statistics
Edit
The following are statistics related to the courses currently in the incubator. A description of what each specific course phase means can be found here.
Number of courses per language
Available
To learn
(35 languages)

(22)

•

(08)

•

(07)

•

(07)

•

(04)

•

(03)

•

(03)

•

(03)

•

(02)

•

(01)




(01)

•

(01)

•

(01)

•

(01)

•

(01)

•

(01)

•

(01)

•

(01)

•

(01)

•

(01)




(01)

•

(01)

•

(01)

•

(01)

•

(01)

•

(01)

•

(01)

•

(01)

•

(01)

•

(01)




(01)

•

(01)

•

(01)

•

(01)

•

(01)

For speakers of
(23 languages)

(32)

•

(09)

•

(06)

•

(05)

•

(04)

•

(04)

•

(04)

•

(03)

•

(03)

•

(02)




(01)

•

(01)

•

(01)

•

(01)

•

(01)

•

(01)

•

(01)

•

(01)

•

(01)

•

(01)




(01)

•

(01)

•

(01)

Being
built
To learn
(11 languages)

(05)

•

(02)

•

(01)

•

(01)

•

(01)

•

(01)

•

(01)

•

(01)

•

(01)

•

(01)




(01)

For speakers of
(10 languages)

(05)

•

(03)

•

(01)

•

(01)

•

(01)

•

(01)

•

(01)

•

(01)

•

(01)

•

(01)
Volunteer Courses Statistics

| | | Phases | |
| --- | --- | --- | --- |
| | | | |
| Number of courses (101) | 16 | 8 | 77 |
| One course entering the phase every (average days) | 20 | 24 | 24 |
| INCUBATION STATISTICS | → | → | → |
| Average duration | 324 | 239 | 528 |
| Fastest original course | (31) | (34) | (157) |
| Fastest reverse course | (27) | (54) | (238) |
| Fastest new target language | (43) | (34) | (203) |
| Fastest new source language | (44) | (40) | (181) |
Languages entering www.duolingo.com per year
Year
Target languages
Source languages
2019
2018
• • • •
2017
• • • • •
2016
• • • • • •
2015
• • • • • •
2014
• • •
• • • • • • •
• • • •
2013
• • • •
2012
• • • • •
• • •
Languages entering the incubator per year
Year
Target languages
Source languages
2019
2018
•
2017
• • •
2016
•
• • • •
2015
• • • • • • •
• • • •
2014
• • • • • • •
• •
• • • • • • •
•
2013
• • • • •
• • • • • • •
• • • • • •
New courses entering each phase every month
References
Edit
↑ How the Peace Corps teamed up with Duolingo to create language courses. http://technical.ly/dc/2016/06/03/peace-corps-duolingo-language-courses/