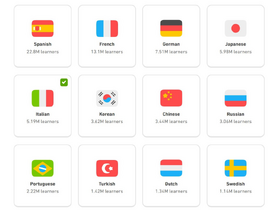 When you create your Duolingo account, you must choose a language course that will teach you your target language in your base language.
Choosing a course
[
]
To start learning a course, click on the flag icon next to your username in the blue bar at the top of the screen or go directly to the courses page.
Base language

[

]
Please note that learning from a language means that the entire website will be in that language. This is your base language. If you switch from learning from one base language to another base language, the website will change to reflect the new base language, and will hide the progress belonging to any of your other base language courses. For example: if you are an English speaker learning German and you switch to learning French from Spanish, the language of the website will change to Spanish. You will not be able to see your progress on English to German until you switch your base language back to English.
The courses page will give you quick links to all the languages available from your currently set base language. To change your base language and see what other learning options are available, use the "I speak:" pull-down menu.
Contents
[
]
A course is a language tree, and in the case of the English base language, four target languages have stories.
Creation
[
]
Duolingo's language courses are created and maintained in the Incubator by volunteers and language experts with the assistance of staff.[1] Some of these courses are also a result of a partnership between Duolingo and organizations such as the Peace Corps[2].
A listing of all available and in-development courses can be found at the Incubator website. Course information can also be found on the courses page and in the course list, though these may not include all courses or be completely up-to-date. 
Statistics
[
]
The following are statistics related to the courses currently in the incubator. A description of what each specific course phase means can be found here.
Number of courses per language
Available
To learn
(41 languages)

(22)

•

(10)

•

(10)

•

(07)

•

(05)

•

(04)

•

(03)

•

(03)

•

(03)

•

(02)




(02)

•

(02)

•

(01)

•

(01)

•

(01)

•

(01)

•

(01)

•

(01)

•

(01)

•

(01)




(01)

•

(01)

•

(01)

•

(01)

•

(01)

•

(01)

•

(01)

•

(01)

•

(01)

•

(01)




(01)

•

(01)

•

(01)

•

(01)

•

(01)

•

(01)

•

(01)

•

(01)

•

(01)

•

(01)




(01)

For speakers of
(23 languages)

(38)

•

(10)

•

(06)

•

(06)

•

(06)

•

(04)

•

(04)

•

(04)

•

(03)

•

(03)




(03)

•

(03)

•

(02)

•

(01)

•

(01)

•

(01)

•

(01)

•

(01)

•

(01)

•

(01)




(01)

•

(01)

•

(01)

Being
built
To learn
(11 languages)

(05)

•

(02)

•

(01)

•

(01)

•

(01)

•

(01)

•

(01)

•

(01)

•

(01)

•

(01)




(01)

For speakers of
(12 languages)

(02)

•

(02)

•

(02)

•

(02)

•

(01)

•

(01)

•

(01)

•

(01)

•

(01)

•

(01)




(01)

•

(01)
Volunteer Courses Statistics

| | | Phases | |
| --- | --- | --- | --- |
| | | | |
| Number of courses (118) | 16 | 11 | 91 |
| One course entering the phase every (average days) | 25 | 33 | 31 |
| INCUBATION STATISTICS | → | → | → |
| Average duration | 366 | 217 | 539 |
| Fastest original course | (31) | (14) | (146) |
| Fastest reverse course | (27) | (1) | (58) |
| Fastest new target language | (43) | (1) | (58) |
| Fastest new source language | (44) | (40) | (181) |
Languages entering www.duolingo.com per year
Year
Target languages
Source languages
2022
2021
2020
2019
• •
2018
• • • •
2017
• • • • •
2016
• • • • • •
2015
• • • • • •
2014
• • •
• • • • • • •
• • • •
2013
• • • •
2012
• • • • •
• • •
Languages entering the incubator per year
Year
Target languages
Source languages
2022
2021
2020
2019
• •
2018
•
2017
• • •
2016
•
• • • •
2015
• • • • • • •
• • • •
2014
• • • • • • •
• •
• • • • • • •
•
2013
• • • • •
• • • • • • •
• • • • • •
See also
[
]
References
[
]