Japanese

日本語

8.32M Learners learners


(updated since Oct 27, 2020)

Information

Courses teaching Japanese
•
Status

Available ✓

Checkpoint

Amount
TBA
Skills in each Checkpoint
TBA

Skills

Amount
TBA
Skills
See Skills
[Source]
Japanese is a Japonic language spoken mainly in Japan by roughly 125 million total speakers.
This course was created by the Duolingo staff and released on the website version on October 11th, 2017.[1]
As of January 2016, Duolingo staff noted that for Japanese:
"The biggest challenge for us is teaching the writing system. Duolingo currently does not have a good way of teaching new character sets, but we'll be working on that soon", Luis von Ahn (2016) [2].
As of the summer 2017, Japanese is available to English speakers on Android and Apple devices, which first teach a few characters then teach simple words employing them. The first words taught are the counting words for one to four i.e. ichi, ni, san, yon.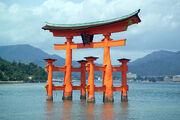 Main article: Guide to keyboard layouts and input methods

Language learning platforms
[
edit
|
edit source
]
Community content is available under
CC-BY-SA
unless otherwise noted.