Obi-Wan Finale - The Loop
Play Sound
Japanese

日本語

10.9M learners


(updated since Sep 3, 2021)

Information

Courses teaching Japanese
•
Status

Available ✓

Checkpoint

Amount
6
Skills in each Checkpoint
from 20-26 (checkpoints 1 to 6), 10 (first checkpoint)

Skills

Amount
131
Skills
See Skills
[Source]
Japanese is a Japonic language spoken mainly in Japan by roughly 125 million total speakers.
This course was created by the Duolingo staff and released on the website version on October 11th, 2017.[1]
Notes
[
]
As of January 2016, Duolingo staff noted that for Japanese:
"The biggest challenge for us is teaching the writing system. Duolingo currently does not have a good way of teaching new character sets, but we'll be working on that soon", Luis von Ahn (2016) [2].
As of the summer 2017, Japanese is available to English speakers on Android and Apple devices, which first teach a few characters then teach simple words employing them. The first words taught are the counting words for one to four i.e. ichi, ni, san, yon.
Duolingo Course Binder PDF
[
]
The entire Duolingo Japanese Course as documented by the Fandom Community will be made available soon on PDF. Allow us to complete it first!
External resources
[
]
Input methods
[
]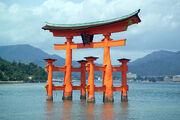 Main article: Guide to keyboard layouts and input methods

Pronunciation
[
]
Dictionaries
[
]
Reading texts
[
]
Writing practice
[
]
Listening comprehension
[
]
Grammar references
[
]
Language learning platforms
[
]
Miscellaneous
[
]
Duolingo vs. the JLPT
[
]
The Japanese-Language Proficiency Test (日本語能力試験, Nihongo Nōryoku Shiken) is Japan's official measure of a person's Japanese competency. The levels vary from N5 (lowest) to N1 (highest).
Taking the test has advantages. But up to what level can Duolingo take you, that is the question:
The graph[3] shown (which is cropped; click on image to see in full) indicates Duolingo covers only about 15% the lexis for JLPT N1. Which means an additional resource such as this Memrise Course will be required to cover for the 85% defect, which is about 2000 more words.
This reddit user points out that the N1 is "at best a high-school level understanding", and is nowhere near native-level. However, despite the N1 is not comprehensive, achieving at least that level will definitely make progress towards Japanese mastery.
This Wikipedia page gives more formal vocabulary lists for all the N-level tests, but in a less-learnable and gamified format.
See Also
[
]
References
[
]