Jurassic World: Dominion Dominates Fandom Wikis - The Loop
Play Sound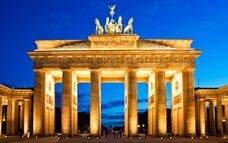 German is a West Germanic language[1] and one of the original languages available to learn on Duolingo.[2] The tree for the language was updated on October 17, 2016.
As of December 2021, the German from English course has 168 skills (171 counting bonus skills).
Keyboard layouts and input methods
[
]
Main article: Guide to keyboard layouts and input methods

Grammar tips
[
]
See German/Grammar tips.
External resources
[
]
Dictionaries
[
]
Courses
[
]
Grammar references
[
]
Other
[
]
Content in German
[
]
References
[
]
German
German Skills

Basics 1

•

Family

•

Basics 2

•

Greetings

•

Restaurant

•

Places

•

Jobs

•

Hobbies

•

Directions

•

Questions

•

Market

•

Weather

•

Family 2

•

Languages

•

Leisure

•

Plans

•

Apartment

•

Shopping

•

Travel

•

Dining Out

•

Transport

•

Birthday

•

Hobbies 2

•

Health

•

People

•

Events

•

Habits

•

Housing

•

Hotel

•

Family 3

•

Food

•

Plans 2

•

Travel 2

•

New Job

•

Habits 2

•

Packing

•

Groceries

•

Birthday 2

•

Roommate

•

On Break

•

Barbecue

•

Community

•

Plans 3

•

Party

•

Free Time

•

Errands

•

Opinions

•

Excuses

•

Moving

•

Food 2

•

Holidays

•

New Home

•

Long Day

•

Weekend

•

Wedding

•

Vacation

•

Routines

•

Pets

•

Gossip

•

Passport

•

College

•

Concert

•

Family 4

•

Dreams

•

Shopping 2

•

Health 2

•

Childhood

•

Party 2

•

Favors

•

Jobs 2

•

Take-Out

•

Gossip 2

•

Feelings

•

Dorm

•

Travel 3

•

Habits 3

•

School

•

Coworkers

•

Neighbors

•

Movies

•

Germany

•

Date

•

Bad Luck

•

Dinner

•

Wardrobe

•

Friends

•

Shopping 3

•

Opinions 2

•

Chatting

•

Animal

•

Plurals

•

Grammar 1

•

Clothing

•

Nature

•

It's Mine

•

Places 2

•

Pronouns

•

Household

•

People 2

•

Asking

•

Relatives

•

Counting

•

Food 3

•

Vocab

•

Dative 2

•

Family 5

•

Body 1

•

Shopping 4

•

Travel 4

•

Numbers 2

•

Colors

•

Imperative

•

Occupation

•

Grammar 3

•

Materials

•

Numbers 3

•

Comparison

•

Qualifiers

•

House 2

•

Dates 1

•

Grammar 4

•

Adjective

•

Location

•

Medical

•

Verbs 2

•

Dates 2

•

People 3

•

The Future

•

Feelings 2

•

Time

•

Grammar 5

•

Adverbs

•

Nature 2

•

Working

•

Verbs 3

•

Grammar 6

•

Grammar 7

•

Verbs 4

•

Weather 2

•

Objects

•

Talking

•

Future 2

•

Internet

•

Education

•

Grammar 8

•

Science

•

Reflexive

•

Chat

•

Business

•

Chat 2

•

Abstract

•

Animal 2

•

Verbs 5

•

Body 2

•

Verbs 6

•

Spiritual

•

Conditions

•

Banking

•

Abstract 2

•

Business 2

•

Verbs 7

•

Sport

•

The Arts

•

Passive

•

Religion

•

Politics

•

Adverbs 2

•

Abstract 3

•

Verbs 8

•

Verbs 9

•

Fantasy

•

Abstract 4

•

Pronouns 2

•

Music

•

Politics 2

•

Germany 2

•

The World

•